Range Road 11 (Norris Beach Road)
Work on Range Road 11 North (Norris Beach Road) will begin on July 10, 2021. Work includes grade, base & pave of 1.18 kms of Range Road 11 North of the Village at Pigeon Lake and a bridge replacement. 
Construction Schedule & Hours of Work
All work performed on site will be during daylight hours. In the event crews fall behind schedule, a night shift may be introduced to return the project to the intended timeline to complete. Regular working hours will be 7:00 a.m. to 7:00 p.m. 7 days a week, weather permitting. No work at the Junction of Highway 13 or Crystal Springs Drive will be undertaken during hours of darkness. 
Tentative Construction Schedule (Updated August 19):
| | |
| --- | --- |
| Erect Pre-Construction Signage   | June 10, 2021 |
| Mobilization | July 5-10, 2021 |
| Bulk Grading and Drainage | July 10-30, 2021 |
| Bridge File 7312 | August 3-13, 2021 |
| Granular Base Course | August 14-19, 2021 |
| Asphalt Concrete Pavement | August 20-27, 2021 |
| Final Trimming & Clean-up | August 23-31, 2021 |
| Demobilization | September 15, 2021 |

Detours 
A localized detour is intended for this project to provide a route around the construction zone to provide access to Crystal Springs and the south shore of Pigeon Lake throughout the construction period and specifically during the road closure for the installation of Bridge File 7312 at km 0.82. The roadway will be closed from just North of 6th Street to just South of Crystal Key Drive. Residents of Crystal Key and Crystal Springs will be required to use the Range Road 12 detour. Residents of Norris Beach will have access along Range Road 11. It is important to note the Crow Enterprises will ensure that local residents and businesses have access to their properties at all times.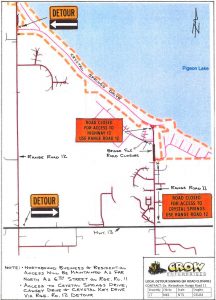 For further reference, please check out this link on the County of Wetaskiwin website.